WHY POLYURETHANE BLADES ARE THE MOST EFFICIENT BELT CLEANERS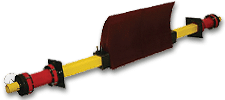 When you're shopping for a new cleaner for your company's conveyor belts, one of the first things to look for is the blade composition. What is it made of? And will that material do the necessary jobs efficiently and safely?
Here at Arch Environmental, we primarily use polyurethane compounds for our belt cleaner blades. There are other options, but we choose to use the material that is the most efficient when vprocleaningagency.com cleaning napa your belts and is the safest to use.
Check out more reasons why polyurethane is the most efficient type of blade for your conveyor belts.
Blade Composition Run Down
Rubber is sometimes used in conveyor belt cleaners, but is often too soft to get the job done contact, mythicalmaids.com maid service. It's not as popular a choice as other materials that are used to make primary or secondary cleaners.
Tungsten carbide is a metal compound. It's used as a belt cleaner in situations that require heavy-duty cleaning. This type of blade is generally utilized in industries such as petroleum coke, steel production and sand or asphalt plants.
The major drawback to using tungsten carbide is that if something goes wrong on the belt or with the cleaner, the metal blade can tear the conveyor apart. Because of that threat, we recommend that only technicians, who are familiar with the cleaners' installation process and use, operate them. Even then, you should carefully consider if your work site needs a blade that aggressive.
Polyurethane is the all-star of conveyor belt cleaners. It can apply pressure at an aggressive angle without the belt being in danger of ripping. The material maintains its resiliency even when it goes up against UV rays, chemicals or dirt.
Polyurethane blades are durable and lasting. And, depending on what brand product you buy, some are re-sharpening. Because it's not a metal, it won't rust or corrode over time. This choice protects your investment in your conveyor belts.
To Learn More About Us
We are always excited to talk to new and existing customers and distributors about why our products are the best on the market. Using polyurethane for our belt cleaner blades is just the beginning.
For more information, check out this free eBook about the 5 Most Costly Production Problems Solved by Arch Products. Then, give us a call at 800-553-4567.