For extremely heavy impact zones ARCH developed the ultimate belt support, the Simplicity Impact System.  Constructed with more steel than most impact beds, Simplicity Impact Systems provide 75 percent more belt support than conventional impact beds!  The impact bars rely on the strength and durability of steel to handle heavy, bulky material, just like the frame.  The steel sub-frames in the bars (NOT ALUMINUM) are molded into a shock absorbing rubber and capped with low-friction UHMW giving your belts a smooth ride out of the loading zone.
100% Customizable-Steel Construction-Bolt-in-Place installation-Supports Length and Width of load zone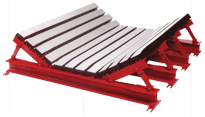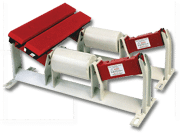 The biggest problem area for dust is the load zone.  Tons of rock, coal, wood, and ore are dumped onto a belt every hour.  Naturally, when this kind of mass is supported by ordinary idlers, the idlers lose.  The belt swags between the idlers and fines escape.  Without proper support your belts will leak!  The Simplicity Slider System fills in those problematic gaps by supporting the
belt between the idlers.
100% Customizable-Steel Construction-Bolt-in-Place installation Supports Length and Width of load zone